Camprosa
The Camprosa (Campus Protection Society of Southern Africa)
2017 conference, held at the picturesque Kwa Maritane Bush Lodge in the North West province's Pilansberg area, was once again a successful networking event for both its sponsors and delegates.
Topical presentations included one from guest speaker David Bousquet – president of IACLEA (International Association of Campus Law Enforcement Administrators) – on the US campus security perspective. Of particular interest and perhaps a plausible idea for South African campuses, is the presence in the US of dedicated law enforcement precincts at each university. There is a highly synergistic relationship between the formalised police presence and the universities' security forces, allowing greater control over risks.
Ken Annandale, founder of IntraSafe, was once again the master of ceremonies for the event and hosted the panel discussion – 'Security within the new norm', with participation by Dr Diane Parker (deputy director-general at the Department of Higher Education for Universities), Major General Mkhwanazi (SAPS), Roland September (acting executive director – properties and services at the University of Cape Town), Derek Huebsch (director – security services at Nelson Mandela University) and Paul Maritz (ex-SRC president at North-West University).
Leonie Mangold, senior key account and business development manager at Powell Tronics and chairperson of ESDA, was invited to present a paper which focused on the company's customised integrated solutions aimed at the education sector.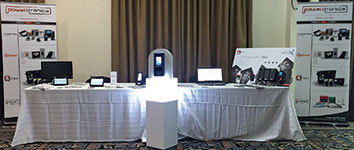 The Powell Tronics display at Camprosa 2017.